Maëlle is just out of school. Today Martha, her mother, came to pick her up. They leave together to the sea by car. Their long separation does not make things easier and the little girl gradually discovers the truth behind this mother who struggles to communicate. Trapped in the momentum of a destructive love, Martha struggles above all against herself.
| | |
| --- | --- |
| Genre | Drama |
| Language | French |
| Executive producers | Stenola Production |
| | |
| --- | --- |
| Partners | The Cinema and Audiovisual center of the Wallonia-Brussels Federation, the RTBF |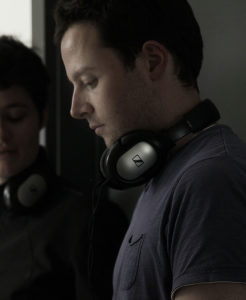 MARTHA is a simpler and more organic story. My previous short films relied on a final twist in which the discovery of the truth opened a gap allowing to reconsider the plot of the film. Here, I wished to leave aside this kind of scenaristic artifice to focus on the characters and to decode the truth gradually, with them and what they live. Although we discover Martha essentially through Maël's eyes, it is she who guides the story and who is the driving force: her impulsiveness, her hyper-emotionality and her emotional instability are palpable and make her ambiguous. The interest, in my opinion, is not in putting a label on Martha, but in the constant fear that this contained violence will really explode. It is more about creating an atmosphere of anxiety for the spectator, with elements of dramatic irony, since we perceive the danger of the situation much more than Maël can at the age of 8. By revealing the past of the characters little by little, we also reveal the elements that condition their relationships in the present of the action.
What interests me enormously is the ambiguity in the treatment of Martha, she is an antagonistic character to Maël, it is from her that the danger and the tension come, we must fear her, but at the same time she remains a human character, in search of filial love. We must have empathy for this woman fallen in her role as a mother, who clumsily tries to remedy it. In terms of staging, this ambivalence of Martha is a real challenge, bringing into play complex mechanisms in the direction of the actors and it is the heart of the interest of this project.
Crew
| | |
| --- | --- |
| Director | Leo Médard |
| Written by | Leo Médard |
| Director of Photography | Son Doan |
| 1st Assistant Director | Pierre Jacquin |
| Script Supervisor | Violette Leblond |
| Set Design | Julian Gomez |
| | Philippe Blonda |
| Sound Engineer | Leny Andrieux |
| Editing | Joachim Thome |
| Sound Design | Leny Andrieux |
| Costumes | Mathilde Dupont |
| Producers | Anton Iffland-Stettner, Eva Kuperman, Arlette Zylberberg, Gregory Zalcman, Alon Knoll |
| Production Director | Noémie Duclos |
| Post-production Director | Olan Bowland |
Cast
| | |
| --- | --- |
| Martha | Camille Sansterre |
| Maëlle | Gabrielle Claeys |
Festivals
| | |
| --- | --- |
| Belgium | Brussels Short Film Festival (BSFF) |